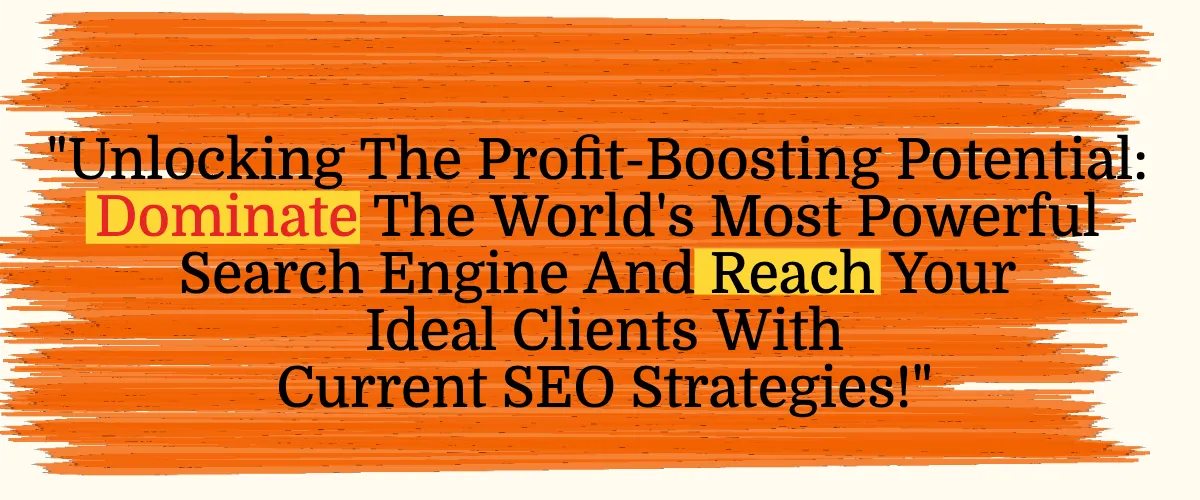 Boost Your Revenue Streams With DIGITAL Tactics
Unlocking the Power of the World's Most Powerful Search Engine: Attracting New Clients with SEO
🚀 Listen up, my friend. Search engine optimization (SEO) is not some mystical enigma. It's the heartbeat of online success, the golden ticket to making your digital presence known. Google, that omnipotent search giant, rules the roost with a 92.37% market share, and it's a game that's constantly changing. But guess what? We're the champions of mastering this ever-evolving SEO landscape.
🤔 So, here's the deal: SEO, in theory, is simple. The more your website shouts "I'm relevant, I'm useful!" to search engines, the higher it'll climb in the rankings for those juicy keywords. But it's not just about stuffing your content with keywords and building backlinks. No, sir! It's about crafting top-notch, shareable content that's the real game-changer. You've got to strike that perfect balance.
💪 But, here's the kicker: a successful SEO campaign isn't a walk in the park. It's a grind, a relentless pursuit of excellence. We'll be your partners in this journey. We'll send you regular progress reports, ensuring you're in the loop every step of the way. Fresh, enticing content will be our weapon, and we'll wield it with finesse. It's a commitment, no doubt, but we're in it for the long haul because we're invested in your growth.
🤷‍♂️ Why bother with SEO, you ask? Well, why bother breathing? With a mind-blowing 3.9 million searches every minute, you simply can't afford to be AWOL in the search marketing game. Content-based SEO is the hottest ticket in town, and the results are astounding. Companies that blog see a whopping 55% surge in web traffic and a staggering 434% increase in indexed pages on search engines.
🚀 But the magic doesn't stop there. The distribution of this content can turbocharge your blog traffic by a jaw-dropping 2000%. What's more, 57% of businesses have notched up at least one customer through a company blog. Let that sink in. 🤯
✨ We are SEO specialists because it works. We want to arm you with this powerful tool. Hand in hand with its trusty partner, PPC, SEO is your ticket to ruling the vast digital marketplace. So, my friend, you've got two little acronyms that can skyrocket your success. Dive deeper into this world, and let's chat about how you can capture more customers through the magic of search marketing. 💥💰